挥发性易燃腐蚀性高盐高粘度含氯溶剂的安瓿瓶密封办法
文/ 发布于2020-11-20  浏览数量:

Sealing Ampules That Contain Unique or Difficult Solutions
熔封包含独特或困难溶液的安瓿瓶
Nearly any liquid may be packaged and sealed in glass ampules, but some liquids require special procedures to ensure:
几乎所有液体都可以用玻璃瓶包装和密封,但有些液体需要特殊程序来确保:
· A uniform, strong seal,
一个统一的,强力的密封
· Operator safety, and
操作安全
· Minimal deterioration of equipment
最小损伤的设备
This paper discusses the issues associated with sealing ampules that contain unique or difficult solutions. Bioscience, Inc. has performed ampule sealing experiments with a variety of liquids. This paper will discuss the sealing of:
本文讨论了与密封安瓿有关的问题,这些问题包含特殊或困难的溶液安瓿密封。Bioscience, Inc.用各种液体进行了安瓿密封实验。本文将讨论以下密封:
· Volatile or Flammable Solvents
挥发性的或可燃性的溶剂
· Corrosive Solutions
腐蚀性溶液
· Chlorinated Organic Solutions
氯化有机溶液
Volatile or Flammable Solutions
挥发性的或可燃性的溶剂
When sealing ampules containing volatile and flammable solutions, the following issues may be encountered:
密封含有挥发性和易燃溶液的安瓿时,可能会遇到以下问题:
· Burning of the solvent,
溶剂燃烧
· Bubbling of the glass ampule seal,
玻璃安瓿瓶头起泡
· And blowout of the glass ampule seal.
玻璃安瓿封口爆裂。
Bubbling and blowout of the seal are caused by the increase of vapor pressure within the glass ampule while it is being sealed.
密封件起泡和爆裂是由于密封时玻璃安瓿内的蒸汽压力增加而引起的。
Volatility is the tendency of a substance to vaporize, and is directly related to its vapor pressure. The higher the vapor pressure of a substance at a given temperature, the higher the volatility. Therefore, the high vapor pressure of volatile substances can make sealing difficult. As the ampules are heated to create a seal, the temperature of the liquid increases, thus also increasing vapor pressure.
挥发性是一种物质蒸发的倾向,与它的蒸气压直接相关。物质在一定温度下的蒸气压越高,挥发性越高。因此,挥发性物质的高蒸气压会使密封困难。当安瓿被加热以形成密封时,液体的温度升高,从而也增加了蒸汽压。
General Recommendations
一般推荐
When sealing volatile or flammable solvents, the use of long-necked ampules is recommended.
当密封挥发性或易燃溶剂时,建议使用长颈安瓿。
Ampules should be inspected prior to use to remove ampules with cracks or other flaws that might cause breakage and spilling of the contents.
安瓿在使用前应进行检查,以去除有裂缝或其他可能导致破损和溢出的缺陷的安瓿。
Care should be taken when sealing volatile or flammable solvents. Always perform a test run with such solvents using the smallest volume of solvent possible to minimize danger to the user. The use of a safety hood or shield is strongly recommended.
密封时应小心挥发性或可燃溶剂。使用此类溶剂进行试运行时,应使用尽可能少的溶剂,以尽量减少对用户的危险。强烈建议使用安全罩或防护罩。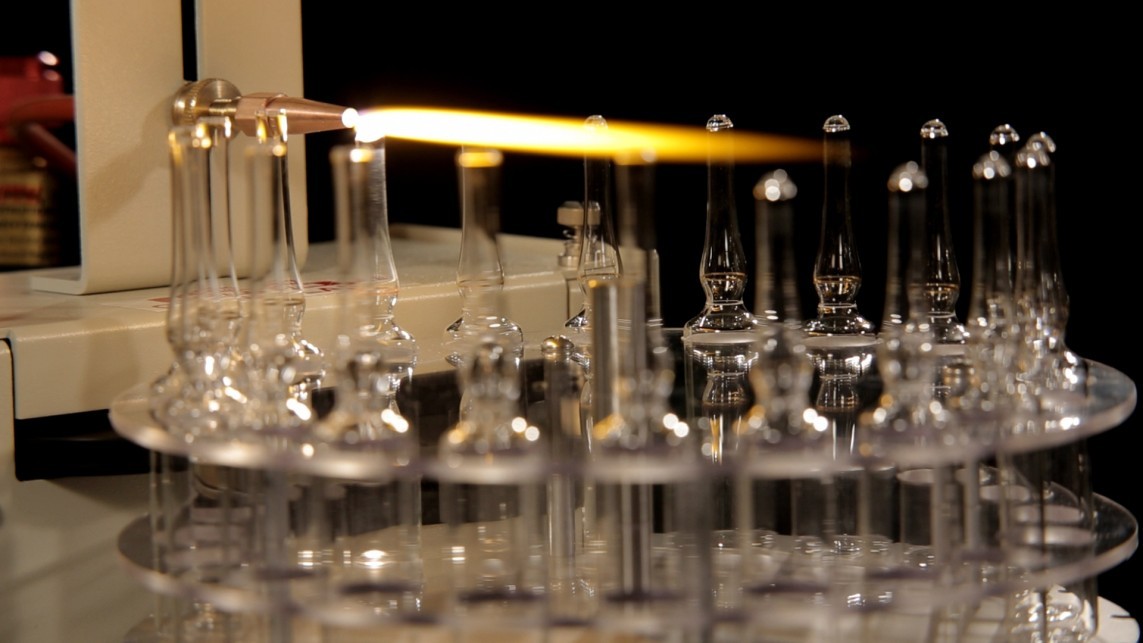 Ampule Sealer Adjustment
熔封机调整
In some cases, minimizing the sealing time (dwell time of the ampule within the flame) and/or reducing the flame temperature may eliminate bubble formation and/or blowout.
在某些情况下,尽可能缩短密封时间(安瓿在火焰中的停留时间)和/或降低火焰温度可以消除气泡的形成和/或爆裂。
Purge Gas Injection
吹扫器插件
Alcohols, crude oils, and alkanes such as hexane can be sealed at ambient temperatures with purge gas injection. Injecting an inert purge gas (i.e. argon or nitrogen) into the ampule after filling displaces both oxygen and solvent vapor from the ampule, reducing vapor pressure and flammability.
醇类、原油和烷烃(如己烷)可在室温下通过吹扫气体进行密封。填充后,向安瓿中注入惰性净化气体(即氩或氮气)可置换安瓿中的氧气和溶剂蒸汽,从而降低蒸汽压力和易燃性。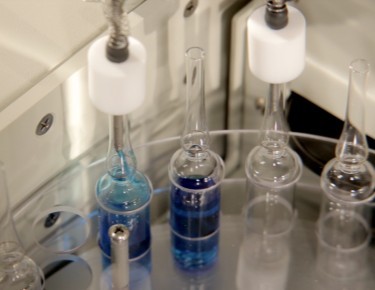 Chilling of Solvents
溶剂冷却
Very volatile and flammable solvents may need to be chilled to reduce flammability and/or vapor pressure sufficiently to ensure safe sealing. The solvents may be chilled by immersion in cold baths of various types prior to flame sealing (see Table 1).
极易挥发和易燃的溶剂可能需要冷却,以充分降低可燃性和/或蒸汽压力,以确保安全密封。在火焰密封之前,溶剂可通过浸入各种类型的冷槽中进行冷却(见表1)。
Table 1: Solvent Chilling
表1:冷却溶剂

Bath components
冷浴元素

Concentration of *
浓度

Temperature °C
温度℃
Ice/water/NaCl*
冰/水/氯化钠
Excess
-10 to -15
Ice/water/CaCl2*
冰/水/二氯化钙
Excess
-29
Dry ice*/ethanol or isopropanol
干冰*/乙醇或异丙醇
Excess
-72 to -78
Dry ice*/ethylene glycol
干冰*/乙二醇
Excess
-15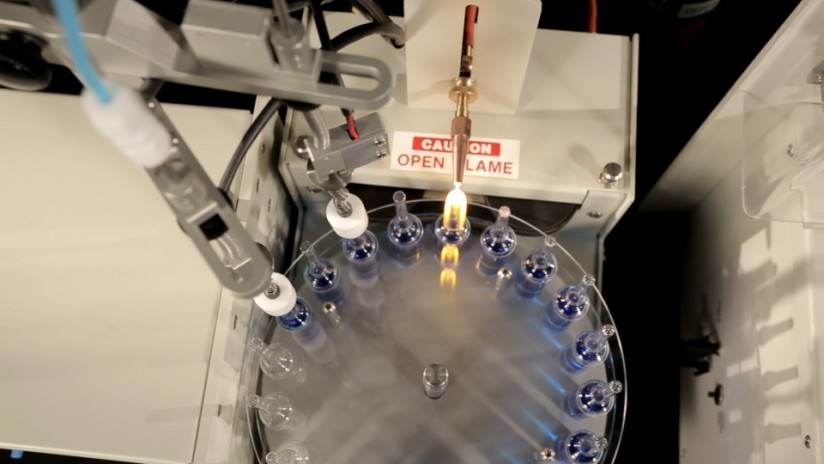 If a solution is stable such that components will not separate on chilling, the chilled solvent can be dispensed into ampules. Unstable solutions may
need to be dispensed into ampules first, then chilled prior to placing in the carousel.
Note:
the syringe used
in our liquid filler will not seal properly if the liquids are
chilled below ~5°C. A chilling coil immersed in a cooling bath may be usable with the liquid filler (inserted in the flow path between the syringe and the ampule filler head). With or without purge gas injection, the filled ampules should be advanced into the flame sealing position as rapidly as possible to minimize warming of
the solvent. Keeping the solvent temperature consistent is important to obtain consistent seals.
如果溶液稳定,使成分在冷却时不会分离,则可以将冷却后的溶剂分配到安瓿中。不稳定溶液可能需要先将其放入安瓿中,然后在放入样品载具盘前冷却。注:在我们的液体分配器中所用注射器,如果液体冷却温度低于~5°C,将会出现漏液问题。浸入冷却槽中的冷却盘管可与液体分配器(插入注射器和安瓿灌装枪之间的流路中)一起使用。无论是否有吹扫气体注入,应尽快将装满的安瓿推进火焰密封位置,以尽量减少溶剂升温。保持溶剂温度一致对于获得一致的密封非常重要。
When setting up your ampule sealing equipment, make initial adjustments with empty ampules or ampules containing non-flammable solvent. Final adjustments are then made with chilled solvent to ensure good sealing.
设置安瓿密封设备时,使用空的安瓿或含有不易燃溶剂的安瓿进行初始调整。然后用冷冻溶剂进行最终调整,以确保密封良好。
Very cold solvents will condense water or even form ice on the outside of the ampule. This condensation may interfere with the uniform spinning of the ampules and result in poor seal quality. Use of an adapter (for example, a PTFE rod drilled to hold 1-5 mL ampules in a 10 mL carousel) insulates the ampule and prevents condensation from affecting ampule spinning.
极冷的溶剂会使水凝结,甚至在安瓿的外部形成冰。这种冷凝可能会干扰安瓿的均匀旋转,并导致密封质量差。使用适配器(例如,使用四氟乙烯适配器,将1-5毫升的安瓿装在一个10毫升的样品载具盘中)可以隔离安瓿,防止冷凝水影响安瓿的旋转。
Corrosive Solutions:
腐蚀性溶液:
Corrosive solvents can damage mechanical components. Communication with Bioscience prior to purchase regarding specific solvents to be used allows us to replace parts which are less resistant in the standard equipment with more resistant materials. A higher grade of stainless steel or titanium may be required for certain components. Note that chlorinated organic solvents degrade in the flame and may create a corrosive atmosphere due to hydrochloric acid formation.
腐蚀性溶剂会损坏机械部件。在购买前与Bioscience公司就所使用的特定溶剂进行沟通,使我们能够将标准设备中抵抗力较低的部件更换为更具抗腐的材料。某些部件可能需要更高等级的不锈钢或钛。请注意,氯化有机溶剂在火焰中降解,并可能由于盐酸的形成而产生腐蚀性环境。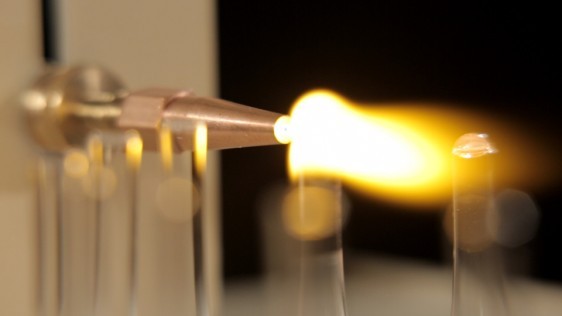 High in Salt Solutions:
高盐溶液:
High salt concentrations may clog the dispensing syringe or tubing of the Liquid Filler accessory. The solution should not precipitate and regular flushing may be required to maintain flow.
高盐浓度可能堵塞液体分配器附件的分配注射器或管道。溶液不应沉淀,可能需要定期冲洗以保持流动。
Higher Viscosity Solutions:
高粘度溶液:
Higher viscosity solutions can be dispensed using the Ampulmatic-10 liquid filler. Viscosity primarily affects the rate of flow through the inlet tubing and thus the rate of fill of the syringe. Larger diameter tubing can be used to increase the flow rate. The syringe must be able to fill completely in less than the time required for sealing the ampule to maintain volumetric accuracy.
更高粘度的溶液可以使用Ampulmatic-10(简称A-10)液体分配器进行分配。粘度主要影响通过入口管的流速,从而影响注射器的填充速率。可以使用较大直径的管子来增加流速。注射器必须能够在密封安瓿所需的时间内完全注满,以保持容量精度。
Materials That Require Oxygen Exclusion:
需要排除氧气的材料:
Materials that degrade due to oxidation will benefit from the purge gas injection of nitrogen or preferably argon. Although the purging does not eliminate oxygen, oxygen concentrations in the headspace of the ampule can be reduced to less than 1%. Consult Bioscience for ways to minimize residual oxygen.
由于氧化而降解的材料将受益于吹扫气体注入氮气或最好是氩气。虽然吹扫不能消除氧气,但安瓿顶部空间的氧气浓度可以降低到1%以下。咨询Bioscience,寻找减少残余氧气的方法。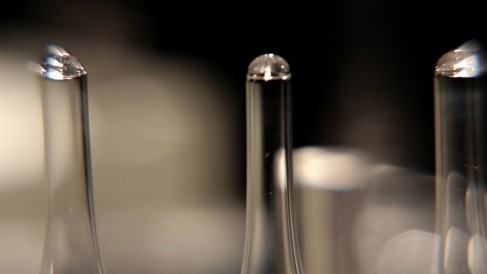 Conclusion
结论
Bioscience, Inc. personnel have worked with customers to solve a variety of difficult applications. If we do not have experience with a particular application, we can perform testing in our laboratory with customer submitted ampules and/or filling solutions. We also can provide equipment for customers to test and develop their own protocols.
Bioscience,Inc.的人员与客户合作解决各种困难的应用程序。如果我们没有特定应用的经验,我们可以在实验室使用客户提交的安瓿和/或填充溶液进行测试。我们还可以为客户提供测试和开发自己的协议的设备。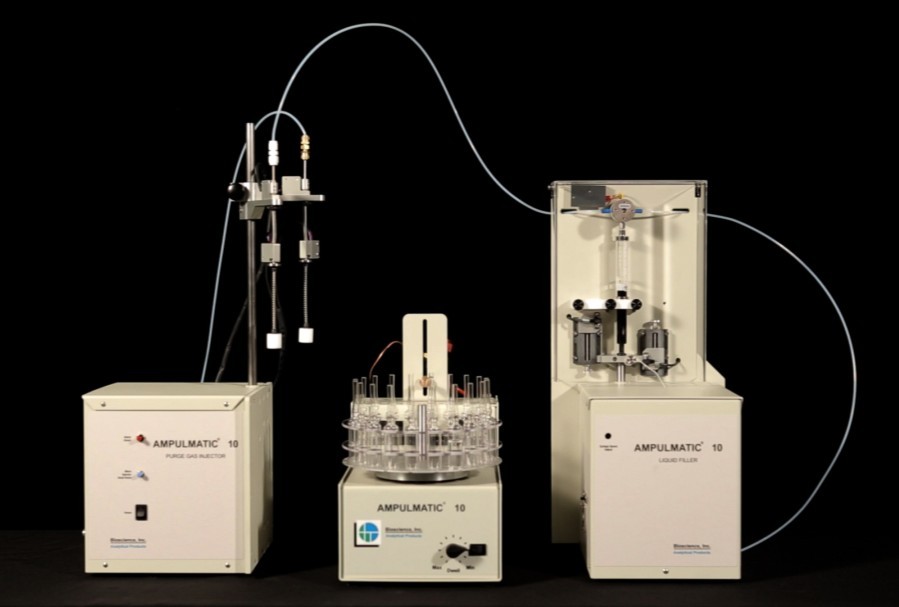 A
mp
u
lm
a
t
i
c
®
i
s a registered trademark of Bioscience, Inc.
2201 Hangar Place, Suite 200 · Allentown, PA 18109 · (484) 245-5232 · Fax (484) 245-5236
E-
mail: bioscience@bioscienceinc.com
· Website:
www.bioscienceinc.com
中国区合作伙伴:上海万象仪器有限公司
www.vanshine.cn